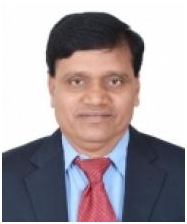 Dr. Vitthal Shrirang Bandal
Principal, Govt. Polytechnic Pune
Principal
Name: Dr. Vitthal Shrirang Bandal
Academic Qualification:
Ph. D. (IIT Bombay). Research Topic: - PSS Design based on Multirate Output Feedback Sliding Mode Control Strategies
(CPI = 9.0 out of 10.0), 2006.
M.E. (Electrical) (Power Systems), Govt. College of Engineering, Karad, India-April 1995 (Percentage of Marks = 70.73 %), 1995.
B. E. (Electrical), Govt. College of Engineering, Karad with first rank in Shivaji University, Kolhapur, July 1989 (Percentage of Marks =80.88 %) (Recipient of University Gold Medal)
Present Status:
Principal Government Polytechnic, Pune.
Achievements / Awards:
Received Gold Medal for Securing First rank at B.E. (Electrical) Examination in Shivaji university Kolhapur.
Stood First in Maharashtra Public Service Comission Examination held for the post of Asst. Engineer(Electrical) (Public Works Dept.)
Successful Completion of Phd from IIT Bombay in two and half years.
Received Best Research Paper awards at National/International Conferences held in India, Hong Kong, Canada, New York.
Research / Consultancy Grants:
Fetched more than Rs.52 lacs grant under MODROB, RPS and Consultancy projects
Paper Published:
Twenty nine research paper at National and International conferences/Journals
Participated in more than forty National / International workshops / Conferences / Training Programs.
Invited Talks:
Delivered more than 130 Expert lectures on various topics like
MATLAB Applications.
Sliding Mode Control.
Research Methodology.
Smart Grid and Integration of Renewable Energy Sources.
NBA -An outcome based education philosophy.
Role of PV Solar Solutions to make India Energy Self Sufficient at National / International level Workshops /Seminars.
Administrative Responsibilities:
Worked as an Administrator at various levels
Head of Department.
BOS Member.
Hostel Rector.
Chairman for F.Y. B.Tech Admission for autonomous institute in Maharashtra State.
AICTE Expert Member ( Electrical Engineering).
NBA Expert Member ( Electrical Engineering).
Consultant to Health Dept, Government of Maharashtra in Design and Implementation of Solar PV AC Hybrid System for Deep Freezer and ILR installed at 407 primary Health centers in Maharashtra during 2009-2015
Consultant for "Safe City" Kolhapur project by KMC kolhapur in 2016-17.
Experience:
More than twenty five years expirience contributing to Teaching, Research and Administration.
Taught more than twenty five subjects at UG / PG level.
Address for Communication:
Dr. Vitthal Shrirang Bandal
Principal,
Government Polytechnic,
University Road,
Pune - 411016(Maharashtra)